Eliza Takes out Title of 'Hawkesbury Showgirl 2020'
Eliza Babazogli of Glossodia has taken out the prestigious title of the 2020 Hawkesbury Showgirl which was announced on the 30th November at the Windsor RSL. This year the judges had an enormous and difficult task of selecting the 2020 Hawkesbury Showgirl. Strong competition was supplied by a total of 5 local entrants who all vied for the title with Emily Lambert of Maroota being awarded 1st Runner up and Alana Wade from Kurrajong taking the title of second runner up.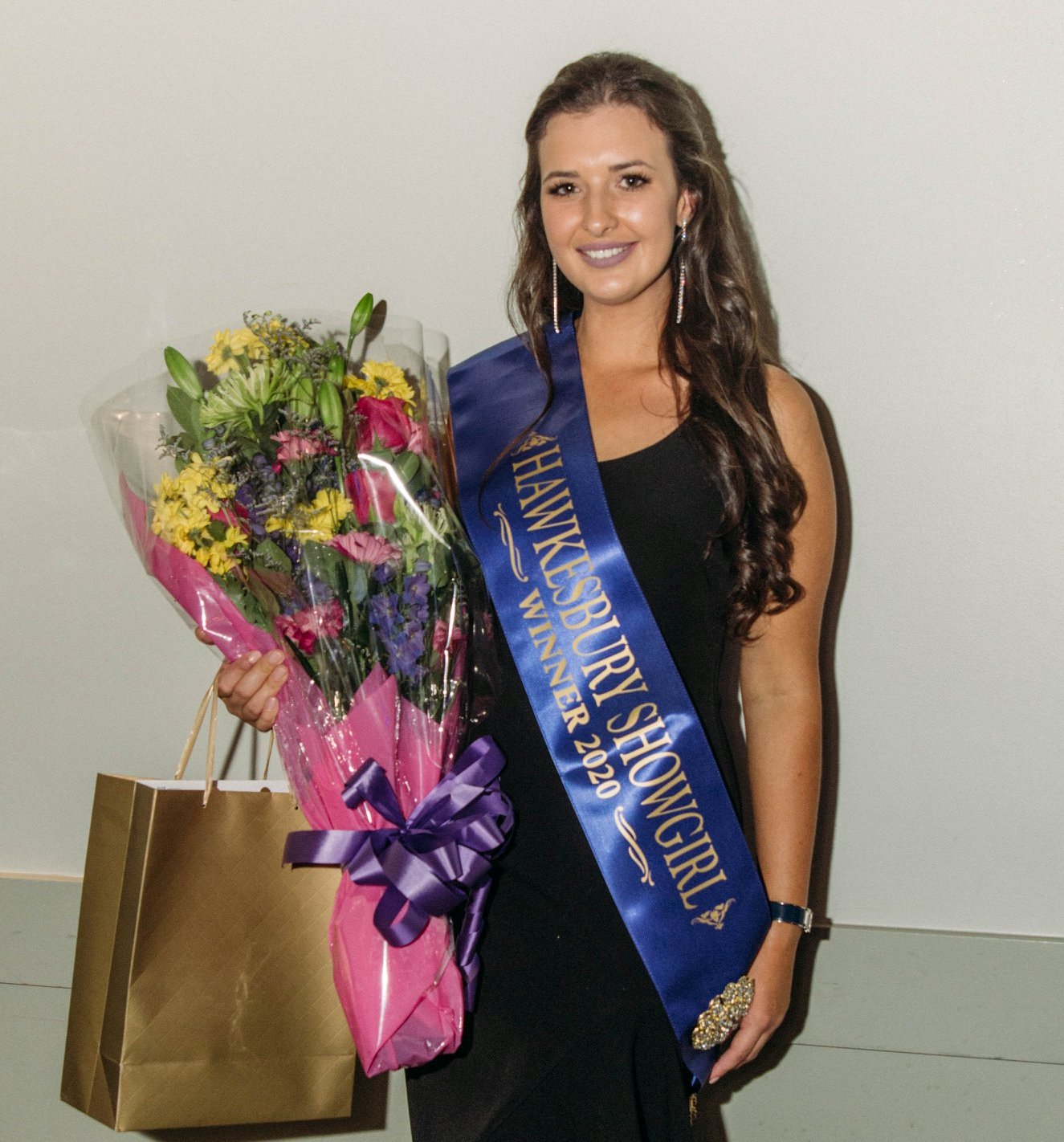 Eliza at the age of 22 has a very strong passion for the Hawkesbury. She is currently employed as a Sponsorship Executive at Hawkesbury Race Club NSW. In 2016, Eliza graduated with High Distinction and Dux of Equine Business Management at Marcus Oldham College Geelong.
With a passion for horses, Eliza begun competing at a young age,achieving her first national win at 7 years old. She has continued to train a variety of horses, producing competitive exhibits of 'Royal Show' quality. She has been an equestrian judge for 7 years, as well as a HDAA Horse section committee member. She is also involved with cattle breeding and showing, picking up countless supreme and champion placings at a variety of shows in 2019.
She entered the Showgirl Competition to inspire women in agriculture and business, and to promote our agricultural show to the entire community and younger generations. Her future goals include continuing her equestrian and cattle pursuits, and helping the HDAA to encourage young member engagement with the agricultural richness of the region.

The entrants were judged by a panel of three judges on personality, confidence, community involvement, general knowledge, rural knowledge, ambitions/goals, personal presentation and public speaking abilities. The competition aims to find a youth Ambassador for the Hawkesbury area and is one of the most prestigious titles within the Agricultural Show movement and carries with it the chance to represent the Hawkesbury region at a zone and state level and be a youth ambassador for the Hawkesbury community and rural NSW.

After an intensive judging process the highlight of the Showgirl journey was the presentation dinner where each entrant undertook the final task of being interviewed on stage by the 1989 Showgirl, Jacqueline Leal. The judges congratulated all the 5 entrants on their achievements and how much each had developed throughout the competition and all were worthy and inspiring candidates.
Eliza will now continue her Showgirl journey and attend the New South Wales Agricultural Shows Zone 2 finals in late February 2020 which is being hosted by HDAA at the Hawkesbury Race Club. If successful , she will represent the Hawkesbury and the Zone at the state finals at the 2020 Sydney Royal Easter Show.
The Showgirl Committee of the Hawkesbury Show congratulates all the entrants in the competition and extends its thanks to the Hawkesbury Gazette and Windsor RSL for their partnership of the event and the support of the Kaye's Cakes and Flowers, Grover's Country Clothing and Taylor Attack, photographer.
About Hawkesbury Showgirl
The Hawkesbury Showgirl competition aims to find a young female Ambassador for the Hawkesbury area. The winning Showgirl is selected by a panel of three judges and remains Showgirl until the next year's Show. Her role involves many official and informal duties.
It's one of the most prestigious titles the show movement can bestow and carries with it not only prizemoney, the chance to represent your district at regional and zone levels but also the pride of being an ambassador your community and rural NSW.
The Showgirl Competition is definitely not a beauty pageant. Entrants must have a genuine interest in, and knowledge of, rural NSW. The Competition encourages the participation and awareness of issues faced by women in rural NSW. Contestants are judged on personality, confidence, ambition and life goals, general knowledge, rural knowledge, presentation and speech. Finalists must also demonstrate knowledge of their lo-cal community and current affairs. In addition to their potential ambassadorial qualities, contestants are also judged on their involvement in and experience of rural affairs.
Today, contestants continue to be young rural women with purpose and ambition and the Competition plays a significant role in the overall development of rural youth, attracting strong support from entrants, sponsors and organisers.
Entry Requirements

The Competition is open to those who are permanent residents of Australia.
Entrants must be women aged from 18 years to under 25 years as at 1 May in the year of the State Final.
Entrants must reside, be educated, or work within New South Wales for at least three months prior to their local Showgirl Competition to qualify to compete within the State.
General information from the RAS
The Competition aims to find a young woman to act as an ambassador for rural NSW with her role involving many official and informal duties both at the Sydney Royal Easter Show and during her travels interstate and overseas.
It is not a beauty pageant. Most importantly the Showgirls must have a genuine interest in, and knowledge of, rural NSW.
The Competition encourages the participation and subsequent awareness of rural women's contribution and involvement in both local communities and rural NSW as a whole.
For full entry details and guidelines contact the HDAA office on (02) 4577 3591 or email us at hdaa@hawkesburyshow.com.au
The Hawkesbury Show for 2020 is on 1,2 & 3 May.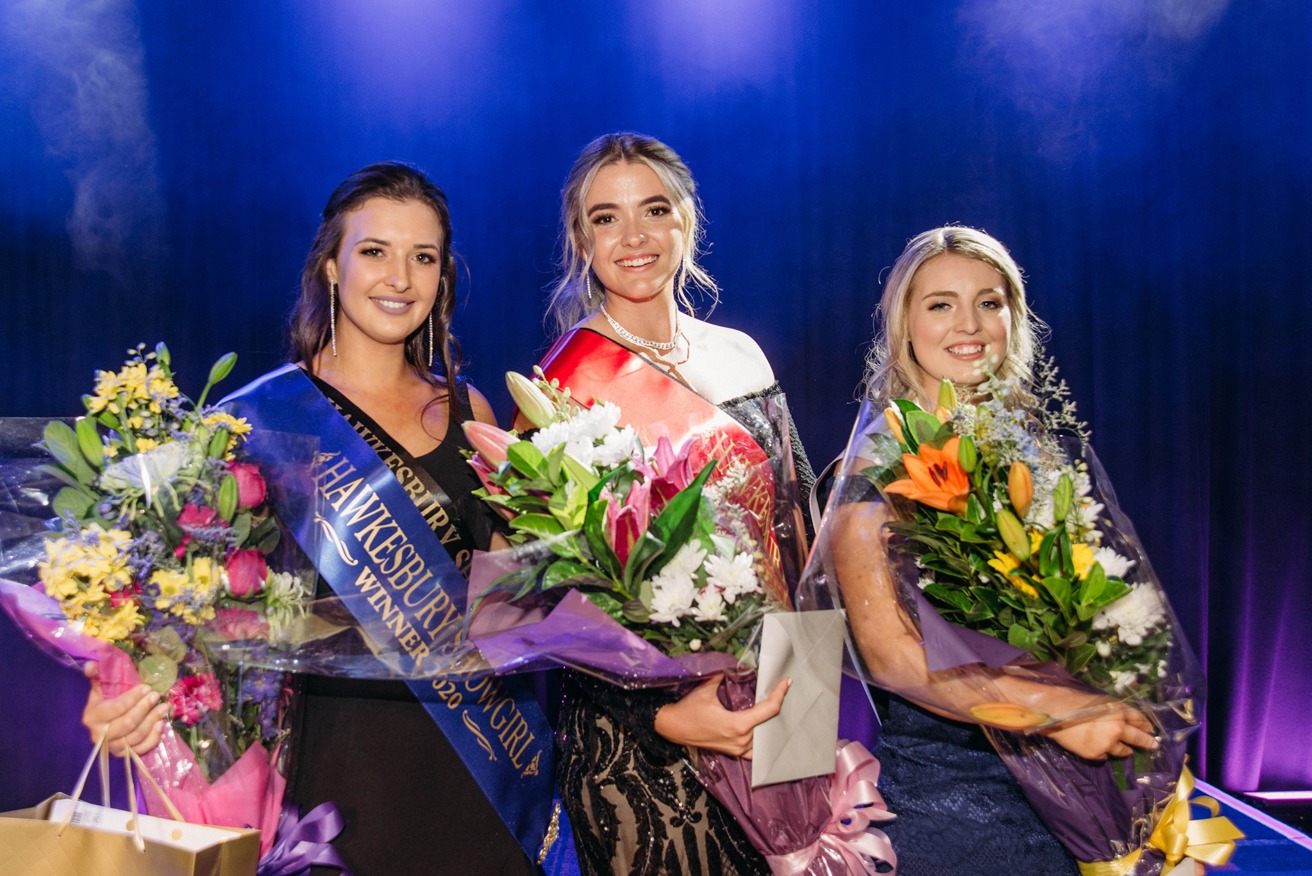 FAQ About Entry to Showgirl Competition
I am not "agricultural" so can I enter?
Yes, anyone with a passion for our local area can enter.
What will I be judged on?
The judges take into account personality, confidence, ambition and life goals, general knowledge, rural knowledge, presentation and speech. Basically, be yourself!
How much will it cost me?
As little or as much as you wish. We recommend for the monetary conscious that you reuse your year 12 formal dresses and for the interview you are asked to wear what you would if you were going to a job interview. We have dinners leading up to the main event but it is your choice if you attend these.
What happens on the day of the competition?
You will be interviewed separately by three judges at our Showgrounds. A lunch is prepared for all our entrants plus our judges, President and Business Manager. In the evening you will be interviewed and the winner will then be announced. This is the same format as Zone level so our lucky winner will have this experience as an advantage over other districts.
Do I have to do public speaking?
The only public speaking is on presentation night where you will be questioned about yourself in an interview. This is not a speech but an interview so the interviewer can assist you if you get nervous.
What can I win?
We find that the greatest prize is not only making new friends but the opportunities that can present themselves. First prize is $1500 from The Hawkesbury Gazette plus a life membership to the HDAA. Second and third prize are also monetary.